WHMpress - WHMCS WordPress Integration Plugin
WHMpress - WHMCS WordPress Integration Plugin
---
---
https://1.envato.market/c/1307448/275988/4415?u=

A Professional WordPress Plugin coded for Webhosting companies who use WHMCS to sell hosting. WHMpress fetches your hosting plan names, prices, order links & domain lists from WHMCS and shows in the form of fancy pricing tables, order combos, order buttons & domain price tables. It offers you Shortcodes to insert these components into your WordPress webhosting site exactly the way you want and where you want. Main focus of WHMpress is to provide you with the tools that help you make webhosting site as good as hosting giants. Â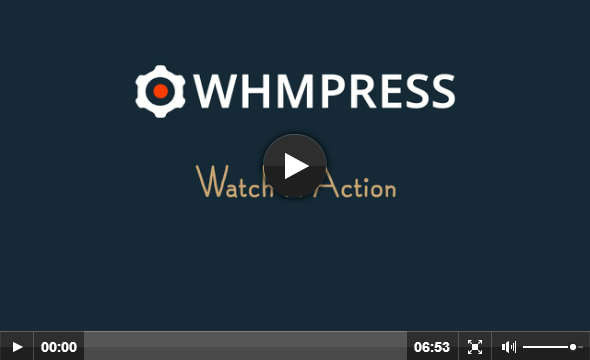 Feel free to take the demo of Live WHMCS WordPress Integration with Examples WHMpress is made for small & medium web hosts and resellers with flexibility in mind. It is highly customizable so it can match you're your existing website design
One button sync to update any changes in WHMCS installation. This plugin will totally removes the need to go back and forth between the WordPress and WHMCS to accommodate any price, package changes.
Unlike manual processes where you are restricted to show pricing in one currency, WHMpress offers multi-currency pricing, let your end user to select currency while browsing the website.
We have worked hard to make the installation process as simple as possible. Just enter WHMCS database info once and we will take care of the rest.
There is no other plugin like this, free or paid in the market. WHMpress is being offered exclusively on CodeCanyon.

Testimonials
Really Impressive work, bought it in the same second i found it!Will surely save me time.
– cptreptile
Very flexible and does what it says.
– safwanraza
I like this idea, something new instead of the same stuff going around, good work.
– mriexinger
on my favorite list!
– aleccs
This plugin is just what I was searching for – it has some fantastic features and I am sure you will add more. Keep them coming – great work.
– zenr

More than 25 Shortcodes (With VisualComposer Components)
Pricing
Product Price
Price Matrix Producs
Pricing tables
Price boxes
Price Matrix Domains
Order
Order button
Order combo (with auto discount calculations)
Order links & URLs
Domain
Domain Search
Domain Whois
Ajax Domain Search (with name spinner)
Domain Search Extended (Search all 540 domains)
Bulk domain search
Sitewide domain search (search from any page & land results on domains page)
WHMCS
Client Area (Addon)
Login/ Register Form
WHMCS Links
Other
Currency
Live Currency Changer/ Currency Select (let user to select currency)
Package Name

Package Description
And many more….
Ajax Domain Search
Ajax Domain Search fully integrated with WHMCS
(Now offering 4 shortcodes with lot more options)
Over 540+ whois servers aand growing with easy interface to add whois server. Still missing a new tld or your cctld domain? drop us an email and we will add it.
Supports new Domains
Support all cctlds (with or without whois server)
Multiples instances supported Do not limit the domain search to one page only, Put the search box on top bar, slider or home page and redirect the results to your domain page.
540+ Domains supported
Display suggested domains through Ajax (watch demo here)
Bulk search option
4 different Shortcodes to suit your specific needs.
Separate coded shortcodes for domain search and display results for ultimate flexibility.
Fully customizable Customize your messages for
Custom message if domain not available message
Custom message to show if domain is available
Custom text for "domain search button
Customize place holder for domain search box
Customize domain not available message for ongoing suggestions
Change no of suggestions to show in each refresh through Ajax
Option to show your top selling tlds at top
Every HTML element can be passed a custom class in Shortcode
WHMCS WordPress Plugin for Webhosting Business
WHMpress is your last stop with all the tools you will need to make a perfect Webhosting site out of WordPress and WHMCS. Built from scratch by Dev. Team of a Webhosting company, with a deep love for WHMCS. Our plugin is loaded with all the options that a webhost will need to portray his services. Â
Give your users Ordering experience of a hosting giant.
Whether you are a reseller a start-up or a medium size hosting company who want to build your website no less than user experience of a hosting giant website. WHMpress offers a tight integration that was only possible with custom code before.
Multilingual (WPML Compatible)
WHMpress is now multilingual ready and support WordPress standard translation method using .po/.mo files. All strings are ready for translation for both backend and frontend. Available Translations:
Spanish: (credit : PlusPlusHosting.com)
Visual Composer Ready
Visual Composer is number one plugin to create webpages through drag and drop. A lot of us use it to make pages. All the shortcodes come with WHMpress are VC ready.
WHMCS Client Area Addon
While WHMpress helps you with easily building your WP hosting, WHMCS Client Area brings your WHMCS within WP, so your customers never leave your front end site for support, paying invoices, placing new orders etc. There is no more need to match your WHMCS with your front end site any more.
More details here
Extendable
WHMpress is extendable through Addons covering all the functionality that you need
WHMCS client area bridge (alternate to WHMCS bridge)
Packge/ VPS hosting Slider (A fancy slider into your WP with special few clicks)
Auto-comparision Tables (No need to make comparision tables by hand, just select packages and let WHMpress inteligently handle the rest)
any more suggestions will be entertained as we respect your opinion
We listen…
We are in webhosting business just like you are, and we listen to you by all means. All feedback is positively welcomed.

Updates
Current Version. 1.8.8 (10th July, 2015)
1.8.8 – (10th July, 2015)

New - Added option to un-register WHMpress in Settings > Register<br />
New - Added option to override WHMCS base URL, this makes WHMpress compatible with "MultiBrand for WHMCS" from modulegarden.com
New - New shortcode added [whmpress_announcements]

1.8.7 – (1st July, 2015)

New - WPML compatible.<br />

1.8.4 – (June 11, 2015)

New - Client groups support in domain pricing added.<br />
New - More strings in translation added.<br />
New - New parameter added in [whmpress_price_matrix_domain]<br />
New - New parameter added in [whmpress_domain_search_ajax]

1.8.3 – (June 2, 2015)

New - Password save option available in Sync WHMCS page.<br />
Fixed - Minor bugs fixed.

1.8.2 – (May 28 , 2015)

New - New options in Client Area settings page.<br />

1.8.1 – (May 27 , 2015)

New - New parameter (show_description) added in [whmpress_price_box]<br />

v.1.8.0 – 22 May 15 –

Fixed - Tweeked to work better with Client Area

v.1.7.0 – 20 May 15 –

Added - Multilingual support
Fixed - Domain search with few registrar fixed
Added - Debug information added and send to author for better support

v.1.6.0 – 14 May 15 -

Fixed - Serveral bugs fixes.
Added - New added options in client area
Added - Purchase verification method added

v.1.5.3 – 28 April 15 -

Fixed - jQuery(...) is not a function" 
New - New options for Client Area addon supported 
Fixed - for shortcode "whmpress_price_table_domain" parameter hide_search was not working. 

v.1.5.1 – 25 April 15 –

Added - Support for -WHMCS Client Area" Addon. 
New - WHMCS Client Area Addon Shortcodes Added. 

v.1.5 – 22 April 15

Added - Compatible with "WHMpress Addon - WHMCS Client Area" 
Fixed - json_encode Pretty output compatibility with PHP v5.29 and less

v.1.4.1 – 17 April 15 –
UPDATE – Search ajax form (when not redirected to other pages) is now truly ajax oriented v.1.4 – 16 April 15 –

UPDATE - DB collation and structure problems fixed on Sync time.
UPDATE - Domain table prices with no. of years
FIXED - Domain ajax search result (Domain available/Not available) messages from settings page fixed.
FIXED - No. of years in bulk domain search and minor bug fixed
NEW - [whmpress_url] - See documentation for more info.
FIXED - Logic of showing monthly/annually values in order combo improved

v.1.3.1, 1.3.2 – 23 March 15 -

FIXED - When WHMCS not synced, Errors fixed when WordPress debug is enabled
NEW - Advanced settings page added in Admin > Settings for URL over write.
NEW - data-content property added in price_matrix and whmpress_price_matrix_domain table for responsive table (Requested by Alaska Development Team)
FIXED - Getting correct currency in search_ajax_result
Updated - Top admin bar WHMpress menu removed.

  
v.1.3.0 – 22 March 15 –

Updated - parameter box_type removed from shortcode [whmpress_price_box]
NEW - Shortcode added [whmpress_pricing_table]
NEW - Shortcode added [whmpress_register_user]
NEW - Shortcode added [whmpress_login_form]
NEW - Shortcode added [whmpress_register_url]
NEW - Visual Composer functionality added.
NEW - Template system added for create very custom theme. (See documentation)
NEW - 6 parameters added in shortcode [whmpress_pricing_table]
    1. font_icon,
    2. description,
    3. image
    4. custom_text_1
    5. custom_text_2
    6. custom_text_3
    (These parameters will work only with new template system)
FIXED - Selected theme file was not correctly selected in admin panel.
FIXED - Recognizing free product and do not show price for that product.

v.1.2.0 – 28 Feb 15 –

New - New shortcode added [whmpress_price_table_group] - Now you can display beautiful and responsive price tables
Fixed - WHMpress will fill auto empty prefixes and suffixes of currencies
Updated - Admin panel look feel improved
Updated - Contact us link added on extensions page in WHMpress panel for better support
Updated - Clearly mentioned that Ajax Domain Search & Whois is completely free and part of basic package
Updated - Completely compatible with WordPress 4.0, 4.1
New - Session controls according to server settings.

v.1.1.2 – 9 Feb 2015 –

Show symbol settings" added for either to show prefix, postfix or currency code with [whmpress_price_table] and [whmpress_price_table_domain] 
ADDED - Added domain list from WHMCS to WHMpress admin in Products/Services 
ADDED - [whmpress_domain_search_extended_ajax] shortcode to search all available domains even those not listed in WHMCS. 
FIXED - After the domain list finishes, load more button was still showing 
FIXED - Register domain link was appearing also for domains that are not listed in WHMCS 
ADDED - New shortcode added [whmpress_domain_search_extended_ajax] 
ADDED - New shortcode for bulk domain search [whmpress_domain_search_bulk] 
ADDED - New shortcode to check whois [whmpress_whois] 
ADDED - New option to show domain price with searched domains for all domain search shortcodes. 

v.1.1.1 -17 January 15 –

Added - Option to change decimal seperator Added - Decimal point option in whmpress_price_table_domain shortcode. 
v.1.1 -15 January 15 - Added - 
Ajax domain search in base package 

v.1.0.9 -9 January 15

Fixed - PHP warning while saving settings. 
Updated - Error handling while saving settings.

Share This Product
Possibly related products