WooCommerce Recover Abandoned Cart
WooCommerce Recover Abandoned Cart
---
---
https://1.envato.market/c/1307448/275988/4415?u=WooCommerce Recover Abandoned Cart is a WooCommerce extension Plugin which will recover the abandoned carts and increase the sales. Cart Abandonment happens due to a variety of reasons and sending mail (with follow up mails) can be the best way to Recover Abandoned Carts which is exactly what this Plugin does. Recover Abandoned Cart monitors carts that are abandoned by Members and Guests to capture Abandoned Carts. It automatically sends mails using the mail templates at specified times to Recover the Abandoned Carts. You can insert the Cart link in the email. You can set up any number of mail templates for sending follow up mails. Advantage in having multiple mail templates at specified time durations is that you can send a first mail without coupon. If the Buyer doesn't respond then you can send the follow up mail with coupon code. This will tempt the Buyer to make the purchase. The Buyer purchase is tracked using cookies. Recover Abandoned Cart works for both Members and Guests. For Members as soon as the products are added to Cart and then the Member leaves for some reason the Abandoned Carts will be captured. For Guests they will have to reach the step of inputting their Email Id in the Checkout Page and once the Email Id is entered the Abandoned Carts will be captured.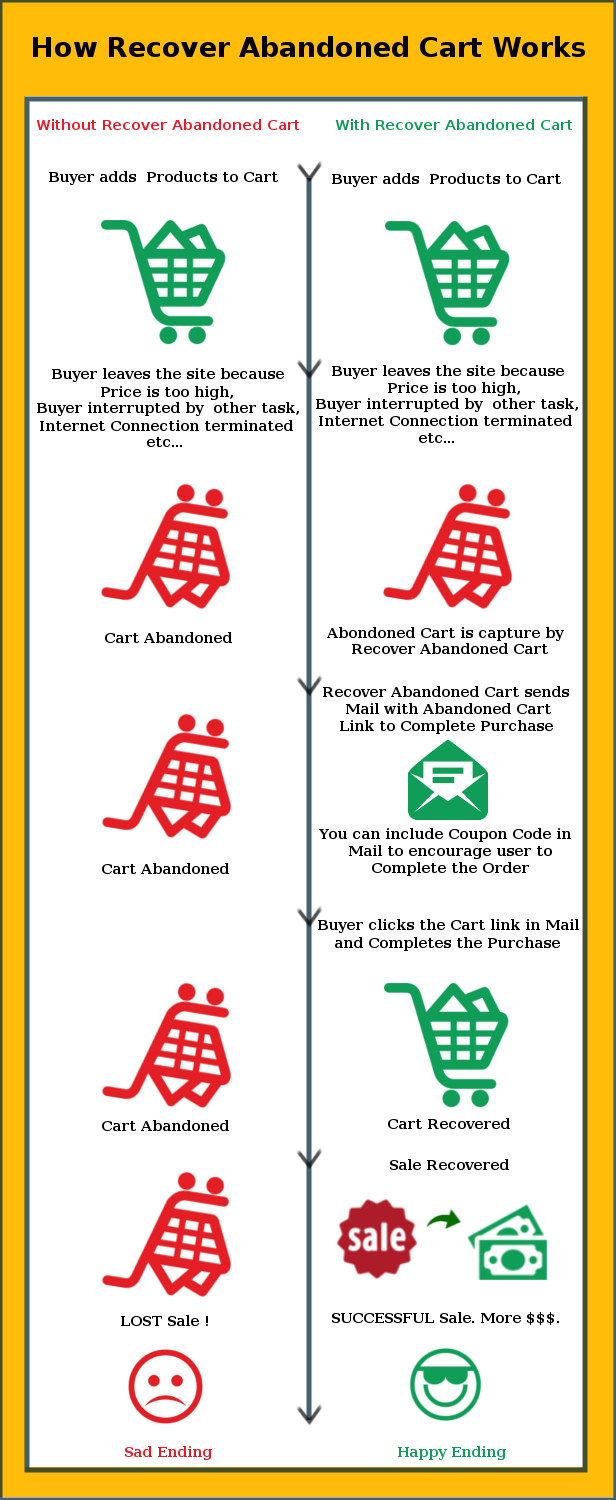 Features
Monitor and Record Abandoned Carts
Recover Abandoned Carts with Automated Mails using Mail Templates
Recover the Lost Sales with Recover Abandoned Cart Plugin
Works for Simple and Variable Products
Recover Abandoned Cart works for both Members and Guests
User Click on mail is recorded for you to analyze which mail templates work
Abandoned Cart and Mail sending time can be set
User Purchase using Cart link from mail is recorded
Multiple mail templates for follow up
Activate/Deactivate Mail Templates
Manual Mailing Option
Email Admin when Cart is Recovered
Automatic Coupon Code Generation to include in Mail
WooCommerce Mail Templates can be used
Checking Previous Orders for Capturing Abandoned Carts
Translation Ready
WPML, WPML String Translation and WooCommerce Multilingual Compatibility for Mails – Please note you need all these 3 Plugins for Multi Language Mails to work
Captures Phone Number for Manual follow up
and more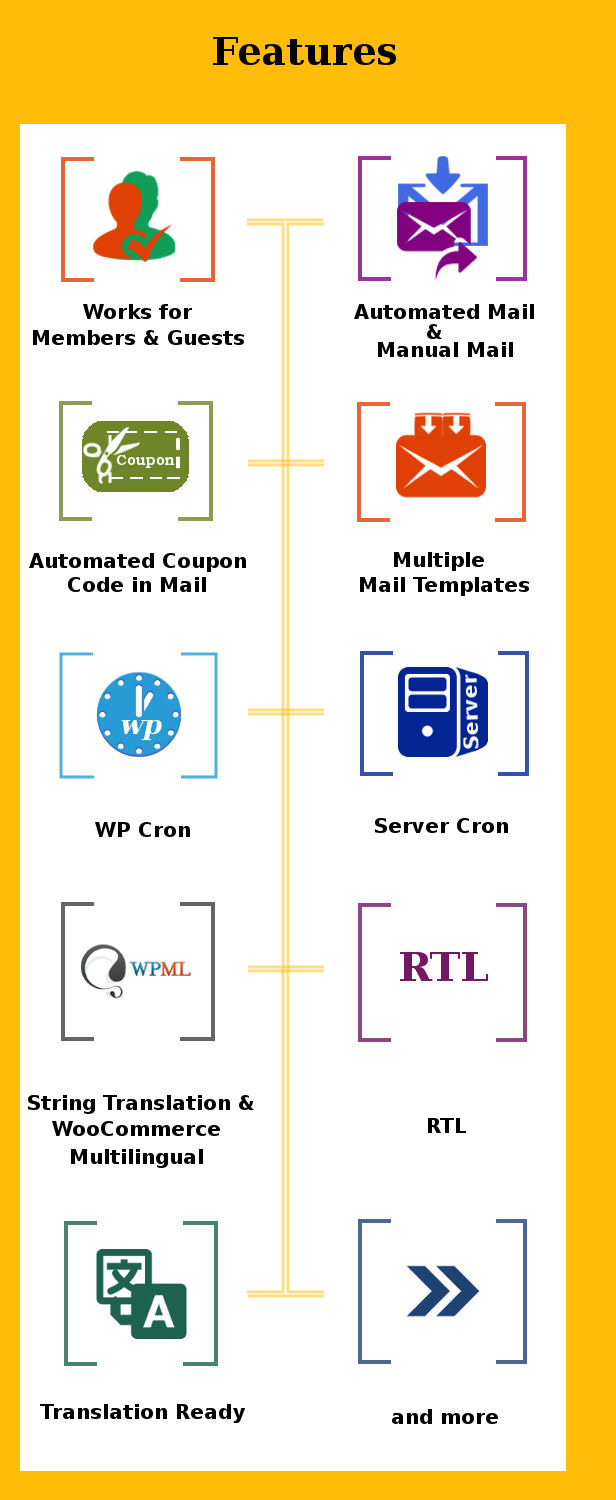 How to Upgrade to a newer version of Recover Abandoned Cart?
If you are using an older version and want to upgrade to the latest version of Recover Abandoned Cart then please do the following steps.
1. Deactivate and Delete the existing version of Recover Abandoned Cart in your site.
2. Download the latest version file (recoverabandonedcart.zip) of Recover Abandoned Cart from Codecanyon.
3. Unzip recoverabandonedcart.zip inside which you will find the Plugins files i.e. rac.zip.
4. Install the latest version of Recover Abandoned Cart i.e. rac.zip using WordPress Dashboard.
5. Activate the Plugin.
Please note you will not lose any settings values, data etc by following the above steps.
Support
Please check the documentation as we have lots of information there. The documentation file can be found inside the documentation folder which you will find when you unzip the downloaded zip file.
For support, feature request or any help, please
register and open a support ticket on our site
.
Updates

Version 8.1.4 on 02 July 2015
- Tweak: Supported WPML Compatibility for Unsubscribe Link in Email

Version 8.1.3 on 02 July 2015
- Tweak: Compatible with latest WPML Plugin

Version 8.1.2 on 28 June 2015
- New: Added Option to Customize Unsubscription Settings in My Account Page
- Fix: Sending WPML Mail from Manual Mail Option

Version 8.1.1 on 26 June 2015
- Updated Documentation 

Version 8.1 on 15 June 2015
- New: Include/Exclude Products in Coupon
- New: Include/Exclude Categories in Coupon

Version 8.0.2 on 12 June 2015
- Tweak: Optimized the Code to Get Users

Version 8.0.1 on 09 June 2015
- Fix: Code Tweaked to get TinyMCE Editor Content

Version 8.0 on 08 June 2015
- New: Unsubscribe Link in Email
- New: Product Info Shortcode Customization
- New: Troubleshoot Send Test Email as well as HTML Email
- New: Coupon Code Validation (One Coupon per User)
- New: Minimum Spend and Maximum Spend in Coupon
- New: Pre Text Customization Option in Coupon Code Generation
- New: Cart List Recovered Identification without clicking Cart Link
- New: {rac.firstname} and {rac.lastname} Shortcodes supported in Email Subject
- New: Trash Status added in Cart List Table of Recover Abandon Cart
- New: Cart Link Customization Option like href Link/Only URL/Button with Color Customization
- Fix: Bug Fix in setting Local Header in Email

Version 7.2.1 on 06 May 2015
- Fix: Sending Mail to Guest and Test Mail

Version 7.2 on 27 April 2015
- Fix: XSS Security Problem Fixed

Version 7.1.3 on 14 April 2015
- Fix: Optimized getting users for exclude option

Version 7.1.2 on 10 April 2015
- Fix: Parse Error

Version 7.1.1 on 09 April 2015
- Fix: Debug Warnings

Version 7.1 on 29 March 2015
- New: Exclude Users from receiving mail by User role, User name, Email id

Version 7.0.3 on 07 March 2015
- Fix: Product Info Table Structure in Email

Version 7.0.2 on 26 February 2015
- New: Option to Customize Product Info Shortcode Column Name in Email Template

Version 7.0.1 on 20 February 2015
- Fix: Compatibility with WooCommerce Version 2.0.20

Version 7.0 on 18 February 2015
- New: Made Recover Abandon Cart Compatible with WooCommerce 2.3.x

Version 6.9.2 on 08 February 2015
- Fix: Cart Link Clicked Count Problem and Recovering for Guest
- Fix: Coupon Code Creation if the prefix of name before @ is less than 4 characters

Version 6.9.1 on 10 January 2015
- Fix: Last Character Missing Problem in Mail

Version 6.9 on 07 January 2015
- New: Shortcode for Displaying Line Items and Totals in Mail

Version 6.8 on 01 January 2015
- New: WPML Compatibility for Product Info, Cart Link etc in Mail

Version 6.7 on 19 December 2014
- Fix: Check DB version to avoid DB already exists error 

Version 6.6 on 06 December 2014
- Fix: Guest Abandoned Cart Recovery Mail

Version 6.5 on 02 December 2014
- New: WooCommerce Backward Compatibility
- New: Default Option for Removing Cart List from Same Users
- Fix: Getting Template ID in Manual Mail

Version 6.4 on 26 November 2014
- New: WPML, WPML String Translation and WooCommerce Multilingual Compatibility for Mails
- New: Phone Number, First Name and Last Name of Buyer in Cart List
- Fix: Echo HTML Tags

Version 6.3 on 22 November 2014
- Enabled Default Option for Sending Mail to Members/Guest
- Bug Fix on Variation Product Information

Version 6.2 on 16 November 2014
- Improvements in Removing Carts from list based on same Email Id

Version 6.1 on 09 November 2014
- Bug Fix on Getting Product Info in Cron Job Email
- Bug Fix for Footable Conflict when Sorting has been made
- Removed Duplicate Shortcode Message in New Email Template
- Fixed Debug Warning Message when visiting from Cart Link

Version 6.0 on 07 November 2014
- Backward Compatibility for WooCommerce Lower Version

Version 5.9 on 06 November 2014
- Changed Option to get price for Product with Line Total
- Bug Fix in Sending Product Info Details for Guest
- Bug Fix in Checking Condition whether it is Guest or Member

Version 5.8 on 03 November 2014
- Bug Fixed in Sending Manual Email from Cart List

Version 5.7 on 16 October 2014
- Bug Fix in Create, Edit  Template Problem and Send Custom Email Problem due to jQuery Error on Tinymce
- Added Alternate Mail Sending from Main Domain Option in Troubleshoot Settings

Version 5.6 on 14 October 2014
- Bug Fix in Coupon Code Deletion on Expiry

Version 5.5 on 12 October 2014
- WooCommerce Price Format corrected
- Product Info Table Border in Mail removed
- Localization Added for Product Info Shortcode

Version 5.4 on 08 October 2014
- Bug Fix for Duplicating Options in Admin Settings

Version 5.3 on 03 October 2014
- Bug Fix in Product Info Shortcode in Mail
- Added Shortcode Information in Email Template section as well

Version 5.2 on 01 October 2014
- Send Email to Members and Guests as Option
- Product Name, Image, Price etc can be shown in Email using Shortcode
- Remove New and Abandon Carts from Same Users
- RECOVERED status has been added

Version 5.1 on 17 September 2014
- Bug Fix in Sorting using Numbers in Cart List

Version 5.0 on 08 September 2014
- Bug fix in Template Status Select Box of Mail Template

Version 4.9 on 26 August 2014
- Order Statuses such as "on hold", "pending" etc for removing Succeeded Carts from Abandoned Cart List

Version 4.8 on 23 August 2014
- Order Status as option for removing Succeeded Carts from Abandoned Cart List

Version 4.7 on 13 August 2014
- Added settings save and mail sent notification message on ajax calls 
- Added Cart Link Anchor Text option in E-Mail Template 
- Added Test Mail option in Troubleshoot 
- Removed Template Choose option from plugin or theme

Version 4.6 on 01 August 2014
- Backslash bug fix in manual mail

Version 4.5 on 22 July 2014
- Plain HTML RTF Mail Option

Version 4.4 on 14 July 2014
- Changed default setting for "Use Email Template from" option

Version 4.3 on 10 July 2014 
- Option to Delete Used/Expired Coupon (which were generated by the Plugin)

Version 4.2 on 10 July 2014
- Backward Compatibility Added for Lower Version of WooCommerce

Version 4.1 on 07 July 2014
- Automatic Generation of Coupon Code to include in Mail
- Plugin defaults value setup function modified

Version 4.0 on 03 July 2014
- Activate/Deactivate Email Template
- Manual Mailing Option
- Cron Job time shown in Troubleshoot Tab
- Reports Tab
- Shortcodes Tab
- Email Admin Option when Cart is Recovered
- Redirect to Email List when new template is created

Version 3.2 on 25 June 2014
- Email Settings added to use WooCommerce Email Template 
- Email Sender options added 
- Save Email Template bug fix for backslash
- Shortcode Feature added in the Email Message Template 

Version 3.1 on 23 June 2014
- Troubleshoot Settings(wp_mail()/mail()) added

Version 3.0 on 18 June 2014
- Checking Previous Orders for Abandoned Carts
- Mail Sending Start/Stop option for Abandoned Carts
- Mail log Feature added

Version 2.9 on 16 June 2014
- Bug fixed in From Name in Email

Version 2.8 on 14 June 2014
- Email cart link bug fixed

Version 2.7 on 14 June 2014
- Reset Button for resetting to default Abandoned time and Cron job time 

Version 2.6 on 3 June 2014
- Date, Time, Email ID are displayed in Cart List Table 
- Cart Link added with Anchor tag in default Email Template

Version 2.5 on 28 May 2014
- Improvement Made in Guest Abandoned Cart

Version 2.4 on 27 May 2014
- Bug Fix for Guest Abandoned Cart
- Bug Fix in Cron Time
- Settings link added

Version 2.3 on 24 May 2014
- Improvements made for Guest Abandoned Cart
- Changes made in deciding Abandoned Cart

Version 2.2 on 23 May 2014
- Bug Fix in Removing Completed Cart

Version 2.1 on 20 May 2014
- Supported for WooCommerce 2.0.x and 1.6.x

Version 2.0 on 19 May 2014
- For Guest it works as soon as email ID is entered
- Delete this row option added for abandoned cart list
- Delete All and Delete selected options added for abandoned cart list
- Select All and Deselect All option added

Version 1.4 on 18 May 2014
- Bug fix in variable product for guest

Version 1.3 on 17 May 2014
- Improvement is made in mail sending function
- Email Status shown in the table

Version 1.2 on 16 May 2014
- ShortCode Support for First Name and Last Name of Buyer

Version 1.1 on 13 May 2014
- Works for Guests as well

Version 1.0 on 9 May 2014
- Initial Release

Share This Product
Possibly related products